How To Choose the Right Domain Name – Tips and Tricks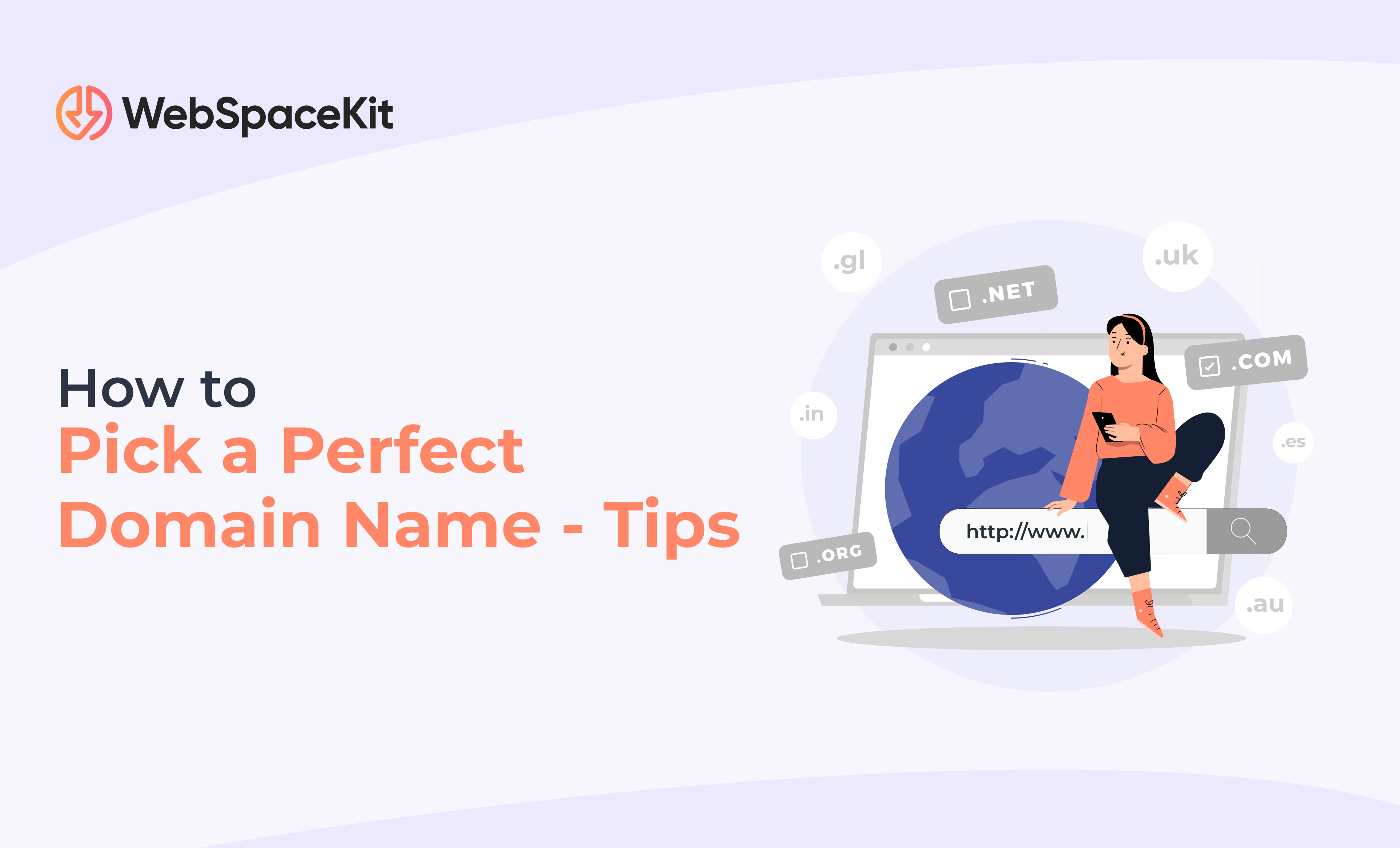 Choosing the right domain name is crucial when setting up a website.
It represents your brand and plays a significant role in search engine optimization (SEO) and attracting visitors.
Domain name is the thing that helps your users to remember. It's essential to choose the right domain name first. Changing your domain name in the future will lead to unnecessary chaos.
There is nothing like a perfect domain name, but following some ideas helps to pick a good domain name for your website.
Selecting the right domain name is more important than choosing web hosting.
But with so many domain options available, deciding can be overwhelming. In this article, we will provide you with essential tips on how to choose a domain name that is memorable, relevant, and SEO-friendly.
What is a Domain Name?
A domain name is a unique web address that identifies a website online. It is the human-friendly version of a website's IP address.
A domain name is key to establishing an online presence and helps identify your website and brand.
Choosing the right name and registering it helps ensure visitors can easily find your site.
So, a well-chosen domain name can help boost your website's visibility, credibility, and accessibility.
In this article, we will discuss some essential tips on choosing a domain name that aligns with your business or personal brand.
Some Key Things to Know About Domain Names
Most of the famous brands domain names usually consist of a top-level domain (like .com, .org, .net)
The domain name serves as a memorable address for visitors to access your site.
Domain names must be registered and renewed annually, typically for a small fee.
The right domain name can help with branding and make your site easy to find. It should be short, memorable, and easy to spell.
Domain names are unique – no two websites can have the same domain name.
Popular domain extensions include .com, .net, .org, .biz, .info, .name, and country-specific domains like .ca or .co.uk.
Domain names can be purchased from domain registrars like WebSpaceKit.
Remember to renew your domain registration on time to prevent losing your domain name.
How to Choose the Perfect Domain Name
Choosing a domain name for your website or business is an exciting first step in creating a website.
Have It Crisp
It's always better to keep your domain name short. That helps people to remember it easily.
The users can quickly type your domain name to reach your website. So, the short domain name works better than the long one.
There is no thumb rule for the length of the domain name. Having a domain name with 5 to 15 letters could look good. The number of words in the domain name is based on your preference.
Top Level Domain Extensions (TLD)
The end part of the domain name is the domain extension. Regularly, you will visit various websites, but you have seen that most popular websites will stick with the .com domain extensions.
.com domain extension is more popular and, most times, considered credible. Moreover, people will generally type .com extensions at the end of the domain name because most business websites use them.
Besides that, you've seen .org and .net domains, also considered top-level domain extensions. Having these domain extensions will create trust among the users.
If you create a website based on any specific country or industry, you can also go with those related domain extensions. But going with the top
TLDs will help your website be recognized internationally.
Include Keywords
It's always better to have keywords in the domain name. You need to do keyword research and check out the domain names of your competitor's sites.
It gives you an idea of choosing a domain name for your website. Also, having a keyword in your domain name signals search engines what niche your website is in.

So, if anyone searches for the keywords, there are chances to rank your website better. Including a keyword shouldn't affect your website's uniqueness.
Easy To Memorable and Pronounce
The domain name should be unique and memorable because it will represent a brand. So it's essential to have a domain name that is easy for the users to remember to share with others or type the URL.
More than memorable, it must be convenient for everyone to pronounce it without miscommunication. So it shouldn't have double letters and different letters with the same pronunciation.
So, if your customers share your domain name with others, it should be conveyed perfectly without any pronunciation mistakes.
Don't Use Numbers and Hyphens
Don't make your domain name to be more complicated. Using hyphens and hyphens is one of the signs of spam websites. Most internet users don't accept the branded domain with numbers and hyphens as trusted ones.
If your domain name includes numbers, people may need help deciding whether to use the numeral (e.g., 5) or spell it out (e.g., five).
When pronouncing and remembering, there are more chances that people will leave the hyphens. All these small things can make a big difference in picking a domain name.
So, make it easy for your users to share and type your domain names.
Research
Quick research always helps you choose a domain name that suits your niche and business.
Research doesn't mean seeking your competitors' websites but also whether the domain name you want to buy is already trademarked.
Sometimes, there are chances that someone has bought the same domain name on a different extension and trademarked it. Basic research can save you a lot of time and effort.
Few Other Things To Consider On How To Choose a Domain Name
Space For Expansion – Pick something scalable if your business expands into new products or locations.
Domain Age – Use the domain age checkers to check if it's a new or already bought domain.
Use Domain Name Checker – Use WebspaceKit domain checker to find whether the domain name is available. Do the domain name search and also use the domain name generator to find ideas.
Avoid Less Popular Extensions – Avoid unpopular domain extensions because people do not easily trust them.
Do Quick Actions – Take quick decisions on buying a domain. It's because there are chances your chosen domain name will be purchased by someone else.
Social Media Availability – You can also check the social media name availability for the domain name. Ensure the name works across websites like medium, business cards, Quora, social media, etc.
Protect Your Brand – More than that, if you are building a bigger brand, consider buying other popular domain extensions of your chosen domain name. It helps to protect your domain name and prevent others from taking advantage of your popularity.
Conclusion
Hopefully, these tips have equipped you to pick the ideal domain name for your website.
Ready to search for availability and register your top choice? Services like WebSpaceKit make securing the perfect web address for your brand quickly and easily.
I'm excited for you to choose a domain and start sharing your business online.
With a little planning and creativity, you'll have a name that helps your brand stand out in no time. Do your research to look out for domain name examples and use generators to find domain name ideas.
By following these steps and tips, you now have the knowledge to choose an excellent domain name for your new website or business. Always buy a domain from a reliable domain registrar like WebSpacekit.

FAQs on How To Choose a Domain Name
Can I change my domain name in the future?
Changing your domain name can be a complex process that may disrupt your website's online presence and search engine rankings. 
It's best to choose a domain name that you are confident will represent your brand for the long term.
What to avoid when choosing a domain name?
Avoiding a few things is often perfect for choosing a domain name. This includes avoiding numbers, hyphens, hard-spelled words, mispronunciation words (Homophones), more lengthy words, and avoiding unknown or less popular domain extensions. 
Are there any free domain name options available?
Yes, free domain names are available through certain domain registrars and platforms. 
However, these free hosting and domain names often have limitations and may not provide the same credibility and customization as paid domain names. Here is a detailed blog on why free hosting is a bad idea. 
Can I register multiple domain names for the same website?
Yes, it is possible to register multiple domain extensions for the same domain name and have them redirect to a single website. This strategy can help protect your brand and capture a broader audience base.
Is it necessary to include keywords in my domain name?
While including keywords can benefit SEO purposes, it is not mandatory. Focus on choosing a domain name that is concise, brandable, and relevant to your target audience.
What should I do if my desired domain name is already taken?
If your desired domain name is unavailable, consider brainstorming alternative options or reach out to the domain owner to inquire about the possibility of purchasing it.