How to Make a WordPress Website in 9 Steps: The Ultimate Guide (2023)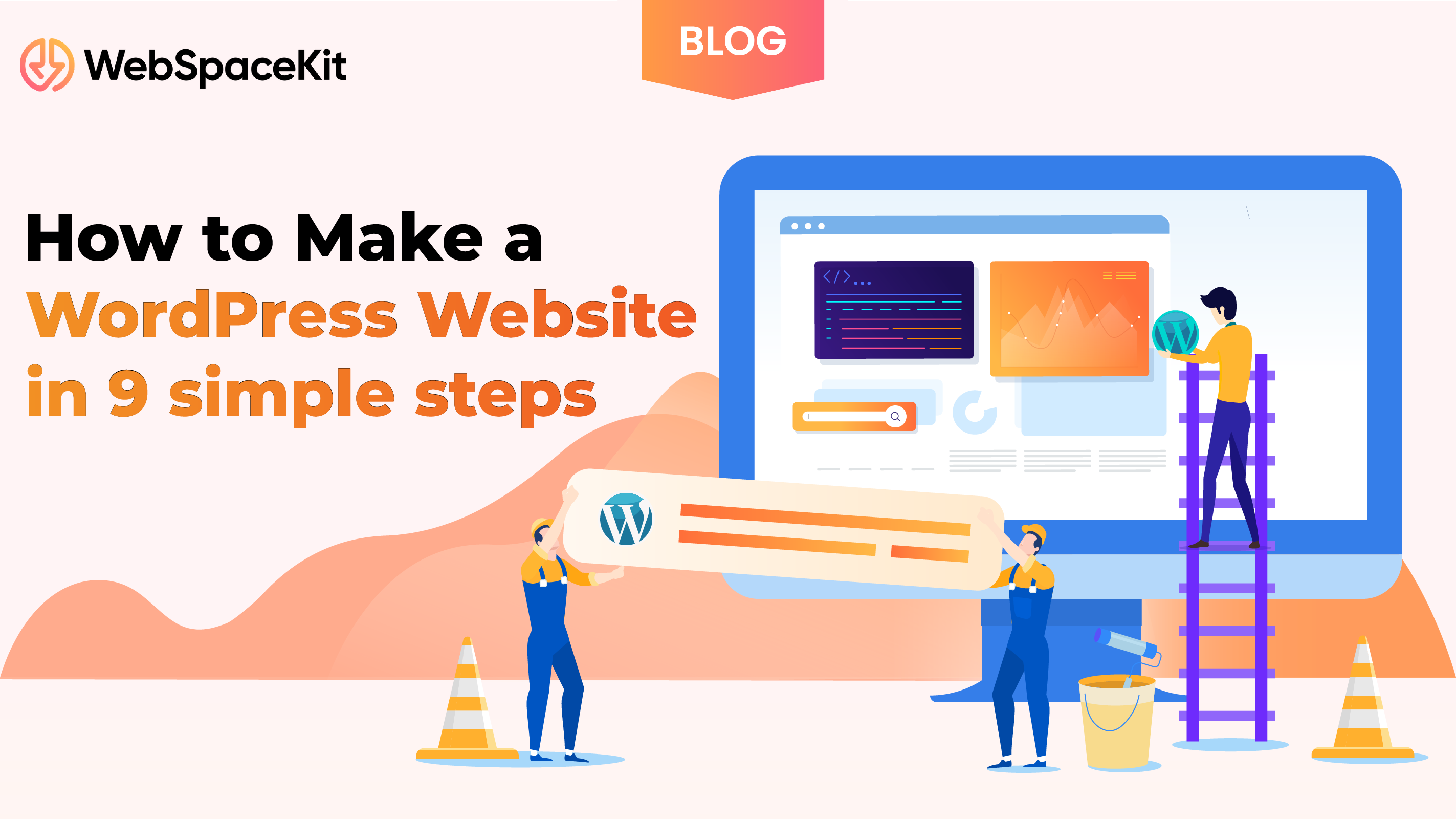 Do you need some assistance with making your website more user-friendly? WordPress is a fantastic choice if you are in the market for a content management system. You can make websites that appear as professionals developed them because of their user-friendly design and extensive personalization possibilities. This post will teach you how to make a WordPress website from scratch, whether you are just beginning a company or want to share your newest study.
How to Make a WordPress Website?
As we all know, creating a website is an essential step for any business those whose are looking to establish an online presence. Choose the best WordPress hosting provider and the plans according to your need and budget. Making a website is possible that appears and act like a professionally built one without knowing how to code. A domain name and hosting space are all that's required. If you are interested in learning the basics of WordPress, this article will be an excellent resource for you.
In this blog post, we will look at 9 step procedure on how to make a WordPress website from domain name registration using the best WordPress hosting provider, setting up a hosting account, choosing the theme, installing plugins, adding content to launching your website, and so on are explained indepth.
Go through the below 9 steps and start making your dream WordPress website.
Step 1: Domain Name Registration
Getting a domain name is the first step in setting up a website. A domain name is an address people type into a web browser to visit a specific website. Selecting a domain name that is memorable and describes your brand is crucial.
Visit WebSpaceKit and type your desired domain name into the search box to begin registering with WebSpaceKit. 
You may put the domain name in your cart and check whether it is available. When a domain name has been registered, the next step is to create a hosting account.
Step 2: Set up a Hosting Account
To make a WordPress website, visit WebSpaceKit and choose the hosting package that best fits your requirements. After settling on a hosting package, you can create an account.
Here's how to get your hosting account up and to run:
Choose a hosting plan and click the "Sign Up" button.
Type in your domain name and choose a payment plan.
Fill out your contact and billing details.
Choose your preferred mode of payment and finish the transaction.
Step 3: Log in to WordPress
WordPress is pre-installed and ready to go as you sign up for a hosting package via WebSpaceKit. To double-check, open a new tab and enter your preferred web address.
Your new website is live and ready for viewing! Yet, there are scenarios when your domain name is not up on the web for a while. If not, wait 5-10 minutes and then try refreshing.
To access your WordPress dashboard, type in your domain name followed by /wp-admin.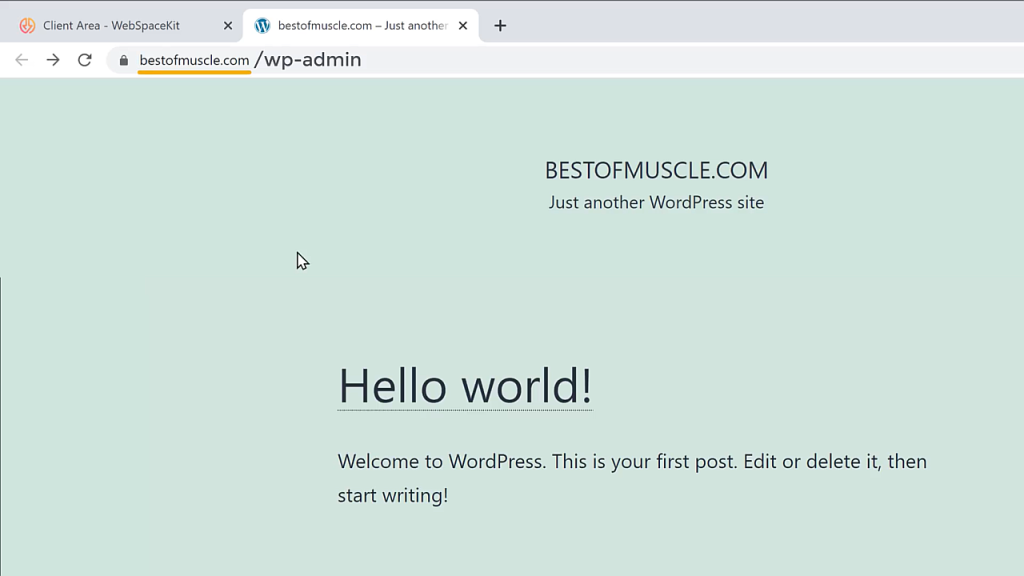 Hit enter. You will be sent to this page in a moment. Click "Log in" after entering the username and password you received in the email after purchasing the WebSpaceKit plan. At last, you will arrive at WordPress's dashboard.
Step 4: Choosing a Theme
When you have signed into WordPress, selecting a theme for your site is the next step. You may customize the look and feel of your WordPress site by selecting from hundreds of free and paid themes.
After logging into your WordPress dashboard, go to "Appearance" > "Themes" to peruse available themes. You may either go through the list of themes or use the search bar to locate one that meets your requirements.
Choose a theme from the available options, click "Add New," and then "Upload Theme" to make the theme active on your site.
Step 5: Install Plugins
Plugins are software programs that extend the capabilities of your WordPress site. WordPress has dozens of plugins for free and paid users, including those that add functionality such as social network sharing and shopping carts.
In the WordPress dashboard, click "Plugins" > "Add New" to add a new plugin. Either type in a keyword to narrow your search or simply peruse the list of plugins we offer. When you find a plugin that meets your requirements, you must click "Install Now" and then "Activate" to add it to your site.
Step 6: Adding Content and Customizing Your Site
You may make your site stand out by tweaking your selected theme. WordPress allows you a wide range of personalization choices, including.
Altering the top and bottom of the page.
Including a new colour scheme.
Adding a picture as a backdrop or a logo.
Putting widgets in the site's sidebars and footers.
Constructing specialized Menus.
You may alter the look of your site by clicking the "Appearance" > "Customize" menu item. In addition, you may also modify the look of your site using the elementor plugin.
After finishing the site's layout, you may start working on its content. Your site's content draws people to your business in the first place. WordPress's in-built editor simplifies the process of writing and publishing content.
Click "Pages" or "Posts" in your WordPress dashboard, then "Add New" to create a new page or post. The editor's features will allow you to format your text, including photos or videos, and more.
Step 7: Optimizing the Performance of Your Website
With SEO techniques, you may raise your site's position in search engine rankings. If you want people to find your website through natural means, you need to optimize it for search engines like Google.
Many search engine optimization plugins are available for WordPress. Yoast SEO is a highly recommended SEO plugin with handy tools like meta tag editing, keyword research, etc.
Yoast SEO may be added to your WordPress site using the "Plugins" > "Add New" menu. Type "SEO" into the search bar and hit the "Install Now" button. When the plugin has been installed, it must be activated before it can be configured.
Step 8: Protect Your Website
Security is the priority while maintaining a website. Your website's data and users' personal information might be compromised if someone were to break into or infect your WordPress-based website with malware.
Using a strong password, updating WordPress and your plugins often, and adding a security plugin are all good ways to protect your website.
There are many security plugins available in WordPress. Wordfence is widely recognized as one of the best WordPress security plugins available. Wordfence can monitor for viruses, act as a firewall, and secure login credentials. You may add Wordfence by searching for it in your WordPress dashboard's plugins section, clicking on the result, and then clicking the "Install Now" option.
Step 9: Launch Your Website
When the website's content and design have been finalized, the site may be launched. Entering your domain name into a browser will take you to your site.
Before a website is launched to the public, it should be tested extensively for both functionality and design. Your website may also attract feedback from close personal connections.
Also, Check out:
Conclusion
To summarize, a WordPress site created with WebSpaceKit is a quick and cheap way to promote your company or personal brand. If you follow these easy steps, even if you have no experience with coding, you can make a WordPress website that seems like it was made by a professional. Investing some effort into creating a visually appealing and exciting website will provide positive results in the shape of more visitors.
To learn more about WordPress and how to use WordPress, stay tuned with Website Learners!
FAQs – How to Make a WordPress Website
Do I need coding skills to use WordPress?
You can use WordPress without knowing how to code. It has a simple interface and various premade plugins.
Can WordPress be used to create an e-commerce site?
Yes. With the help of a plugin like WooCommerce, WordPress can be transformed into a robust e-commerce system.
How can I add content to my WordPress site?
You may use the WordPress post or page editor to upload text, photos, and other media items to your website.
How can I enhance the SEO of my WordPress site?
Use Yoast and other plugins, tailor your content to specific keywords, and boost your site's load time and mobile friendliness to increase your site's search engine rankings.
What is the best way to back up my WordPress site?
WordPress websites may be backed up in several ways, including plugins, manual backups, and web hosting company backups.
How can I alter the design of my WordPress site?
Choose a theme, tweak the settings, and add plugins to your WordPress site to make it look and work how you want.
How many concurrent logins does WordPress support?
WordPress allows for a large number of users, each of whom may be assigned a unique set of responsibilities and a clearly defined role within the site (such as editor, author, or administrator).