How to Choose the Best WordPress Hosting – Ultimate Guide (2023)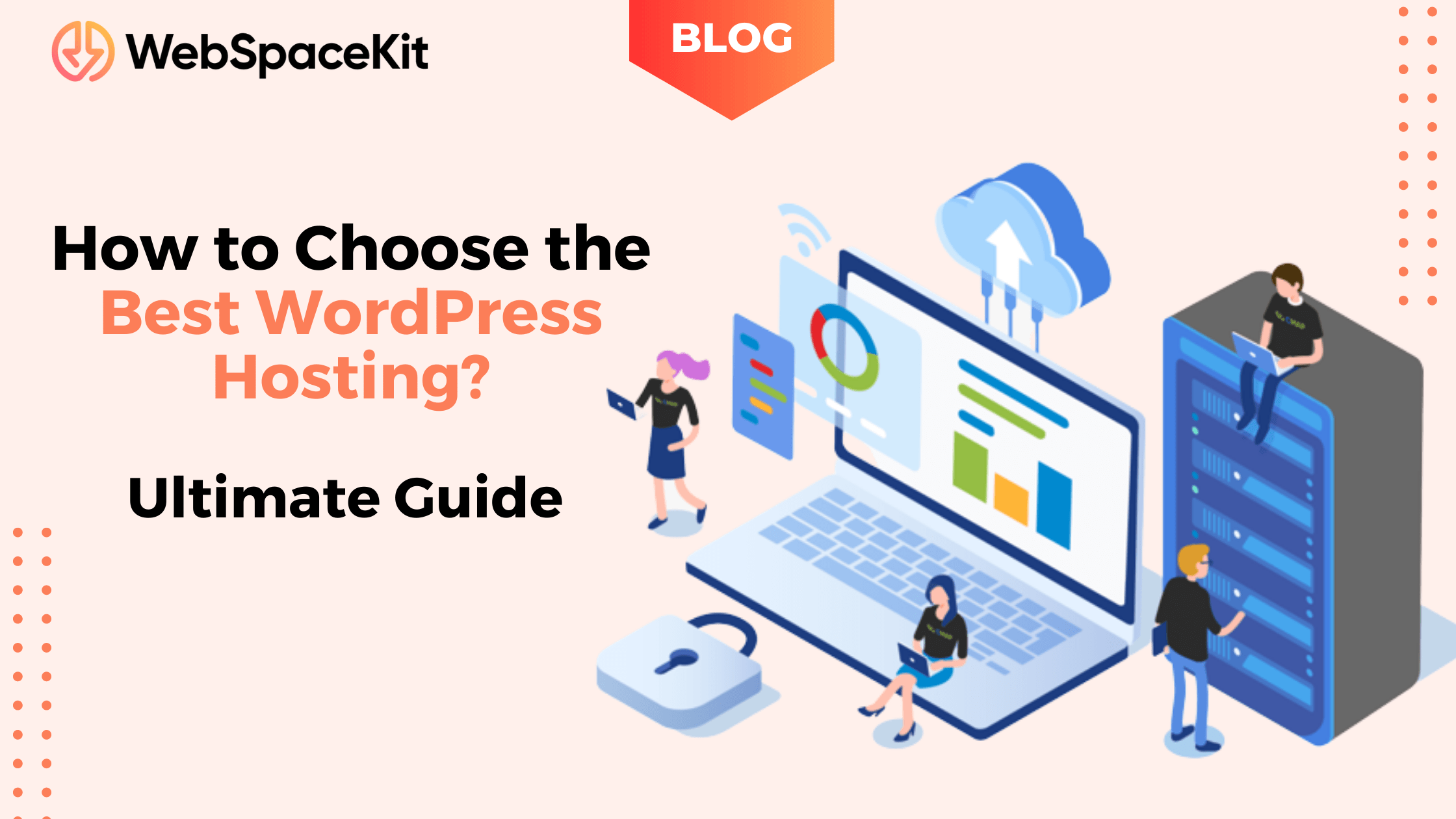 Choosing the best WordPress hosting is essential before releasing a WordPress website. You can be confident that your website will be protected from malicious attacks. Yet, picking the best hosting provider from the numerous options might be challenging. This comprehensive article will show you how to choose the best WordPress hosting provider.
What is WordPress Hosting?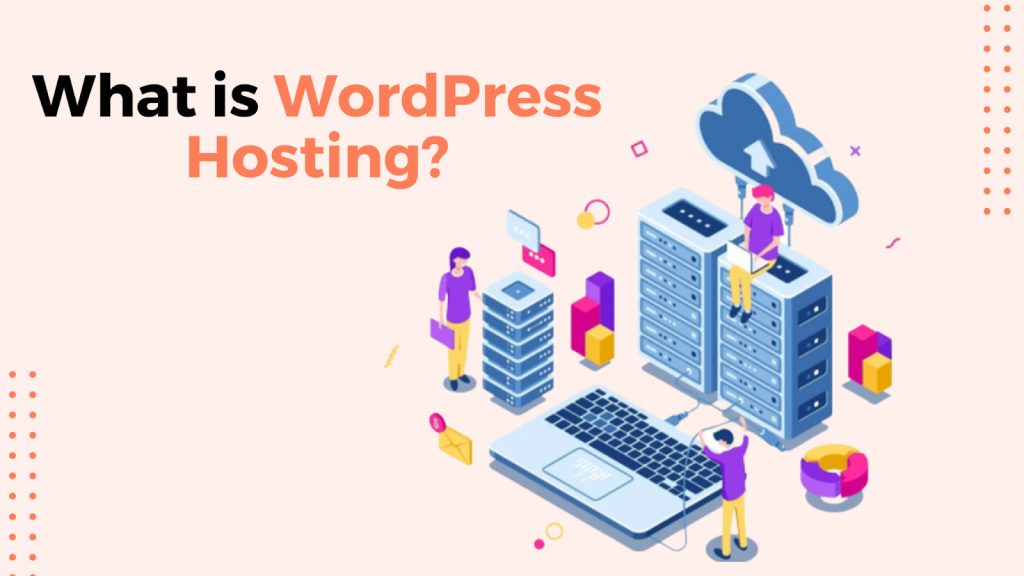 Let's have a firm idea of WordPress hosting before diving into the technicalities of choosing the best WordPress hosting provider. The term "WordPress hosting" refers to a specific kind of web hosting service that was developed to accommodate WordPress sites. As compared to other hosting options, WordPress hosting serves just to power websites built using the WordPress CMS. In other words, WordPress hosting is explicitly tailored to the CMS's compatibility, speed, and security needs.
Factors to Consider When Choosing the Best WordPress Hosting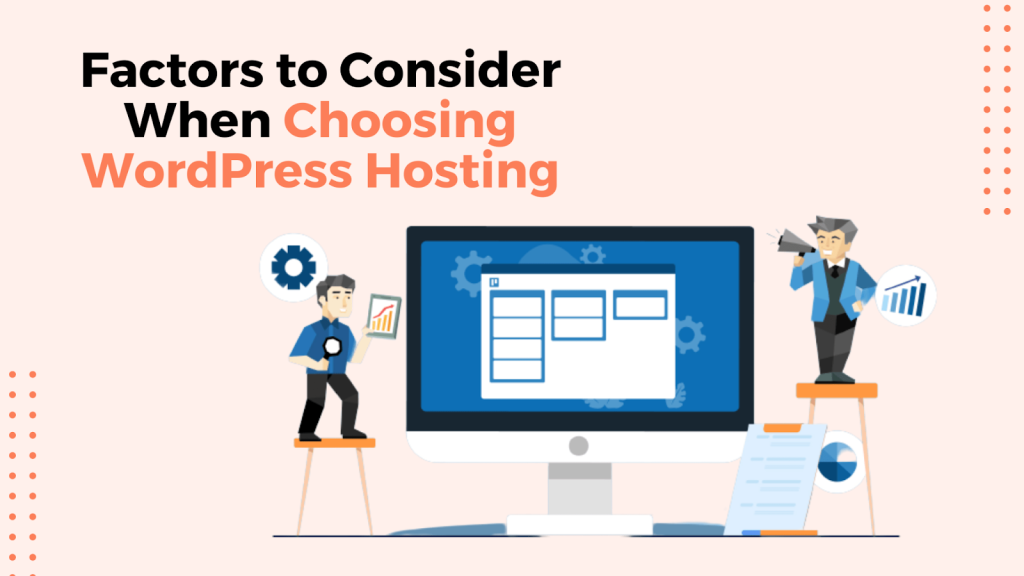 The following are a few factors to consider when purchasing the best wordpress hosting:
Speed and Performance
Speed and performance are two of the most important criteria when deciding on the best WordPress hosting provider. A website's poor speed is bad for business in more ways than one. Make sure your hosting company has lightning-fast servers and has WordPress tuned for maximum performance. You should be able to use caching and content delivery networks (CDNs), among other optimization technologies, provided by your hosting service.
Uptime
Uptime is the measure of how often visitors can access your website. For companies that depend on their website to make money, any downtime may be dangerous. The uptime that you may expect from your WordPress server should be at least 99.9%. As an added precaution against server failure, the best WordPress hosting provider should also have a solid backup strategy for your website's information.
Security
While deciding on the best WordPress hosting company, security is an additional essential aspect to take into consideration. Your website should be protected from cybercriminals and other security risks by a hosting service that offers comprehensive security features. These features should include firewalls, malware scans, SSL certificates, and frequent backups.
Support
While deciding on a hosting provider, the availability of helpful customer service is crucial. A reliable hosting service should give access to help by phone, email, and preferably live chat as well. They should also have a helpful support staff to answer any questions you may have about technological concerns.
Pricing
When selecting the best WordPress hosting company, the cost is a crucial issue to consider. It's important to remember, however, that going with the lowest price isn't necessarily the wisest move. A reliable hosting service should provide flexible payment options based on factors, including your site's traffic, storage space, and bandwidth demands. In addition, they need to be up-front about costs and not sneak in any extra charges.
Why is WebSpaceKit the Best WordPress Hosting Provider?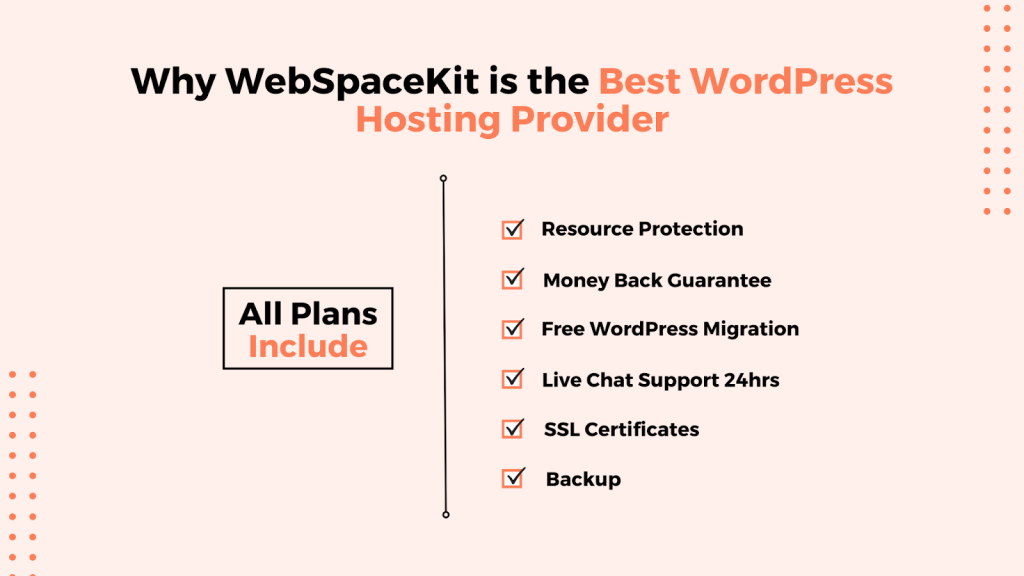 WebSpaceKit is an industry-leading WordPress hosting provider renowned for its speed, security, and dependability. WebSpaceKit is the best WordPress hosting service for many reasons.
Fast and Reliable
WebSpaceKit provides WordPress-specific hosting that is both fast and dependable. They use cutting-edge technology on their servers to guarantee quick page loads and low maintenance needs. In addition, they provide a CDN to speed up your website's load time for visitors all around the globe.
Secure
When it comes to keeping your website secure from intruders like hackers, WebSpaceKit has you covered with many security options. Firewalls, virus scanning, secure socket layer (SSL) certificates, and frequent backups work together to keep your website's data safe.
Excellent Customer Support
WebSpaceKit provides excellent customer service, and the experts are accessible by phone, email, and live chat around the clock. Their customer service crew is very educated and will be able to help you with any and all technical problems that may occur.
Flexible Pricing Plans
WebSpaceKit provides customers with a variety of pricing options that may be customized to meet their specific requirements and financial constraints. They provide managed WordPress hosting plans that provide additional resources and functionality for bigger websites. Also, their pricing is straightforward, there are no additional costs that aren't disclosed, and you have the option to pay either monthly or yearly.
Free WordPress Migration
If you currently have a WordPress website that is hosted with another provider, WebSpaceKit provides free migration services to move your website to its platform so that you may make use of its services. Their team of specialists will oversee the transfer procedure, assuring that your website will be migrated without any interruptions or glitches.
Free SSL Certificate
WebSpaceKit incorporates a free SSL certificate with each and every one of its hosting services. Since it encrypts critical information like login passwords and credit card details, an SSL certificate is vital for the security of a website. In addition, search engine optimization absolutely requires the use of SSL certificates since Google uses them as ranking criteria.
Additional Tips for Choosing the Best WordPress Hosting
In addition to the aspects discussed before, the following are some additional guidelines that will assist you in selecting the best WordPress hosting provider for your website.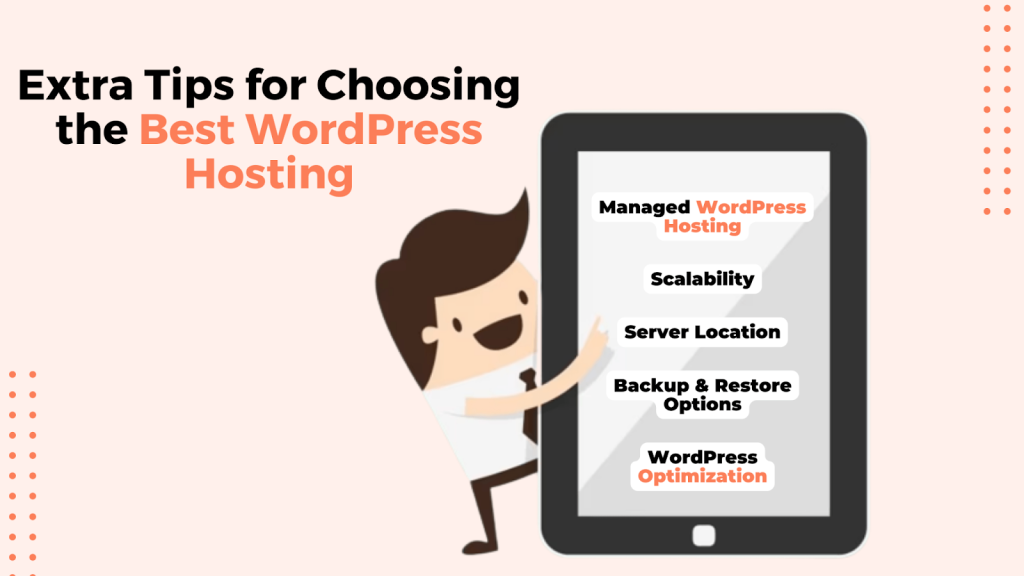 Look for Managed WordPress Hosting
A specific kind of web hosting known as managed WordPress hosting is one in which the hosting provider takes care of all the technical elements of operating a website that uses WordPress. Updating, backing up, protecting, and fine-tuning the system are all part of this. If you choose managed WordPress hosting, you won't have to worry about dealing with any technical difficulties, which frees you up to concentrate on developing your website's content and expanding its user base. This may save you both time and resources.
Check for Scalability
It's possible that when your website expands, you will need to switch to a more robust hosting plan to support the increased number of users and resources. While looking for a hosting company, you should make sure that they provide hosting plans that are scalable so that your website may expand as it becomes busier. In addition to this, they need to provide simple upgrade alternatives with a minimum amount of downtime.
Consider Server Location
When you have users from all over the globe, the server's location might make a difference in how long it takes for your site to load. Make sure your potential host has servers in the same locations as your target audience before signing up with them. In addition, they need to provide a content delivery network (CDN) to guarantee quick page loads for visitors everywhere.
Look for Backup and Restore Options
Protecting your website's data with regular backups is essential in case of a server outage or security compromise. Make sure your prospective host provides frequent backups and simple recovery options in case of data loss. You should also be able to choose to restore just certain files or folders from a backup rather than the full website.
Check for WordPress Optimization
Your website's performance may be enhanced with the aid of optimization tools and services provided by your WordPress server. Optimization techniques like caching and content delivery networks (CDNs) are included here. They should also be compatible with the many WordPress plugins and themes available to expand the capabilities and aesthetic appeal of your site.
Visit Website Learners to get more exclusive offers on WordPress Courses!
Conclusion
Thus, to conclude, one of the most crucial things you can do for the success of your website is to choose the best WordPress hosting provider. It is important to weigh the pros and downsides, including price, support, uptime, and security, before making a final choice. WebSpaceKit's hosting services are distinguished by their quickness, durability, and security, as well as by their helpful staff and flexible pricing plans. Also, WebSpacekit provides free WordPress migration and SSL certificates with every hosting package, making them an excellent choice for anyone using WordPress.
FAQS on How to Choose the Best WordPress Hosting
Why should you choose WebSpaceKit as your WordPress host?
WebSpaceKit is a reliable and secure host with lightning-fast page loads, outstanding uptime, and 24/7 customer support. Their WordPress hosting service includes regular backups, automated upgrades, and other security measures. Besides, they provide adjustable plans with no extra charges.
Where are WebSpaceKit's servers located?
Servers for WebSpaceKit may be found in a variety of countries, including India, Germany, and Singapore. To further guarantee quick loading times for consumers everywhere, they also provide a Content Delivery Network (CDN).
Can I upgrade my Web hosting package with WebSpaceKit?
Hosting options from WebSpaceKit may be expanded as your site expands. If you want to ensure your website is constantly working well, they provide simple update choices with minimal downtime.
How can I move my WordPress site to WebSpaceKit?
If you want to move your site to WebSpaceKit, you can use their free WordPress migration services. Professionals on their team will manage the transfer for you, minimizing any disruption to your website's operations throughout the transition.
How helpful is WebSpaceKit's customer service team?
Live chat, email, and phone assistance are all available around the clock on WebSpaceKit. If you have any technical queries or problems, their support staff is standing by 24/7 to assist you.
How does WebSpaceKit ensure privacy?
Some of the safety measures offered by WebSpaceKit include SSL certificates and malware screening. In addition, they provide regularly scheduled backups to safeguard your website's data against the possibility of loss due to data corruption or a server breakdown.