Why Choosing Free Web Hosting is a Bad Idea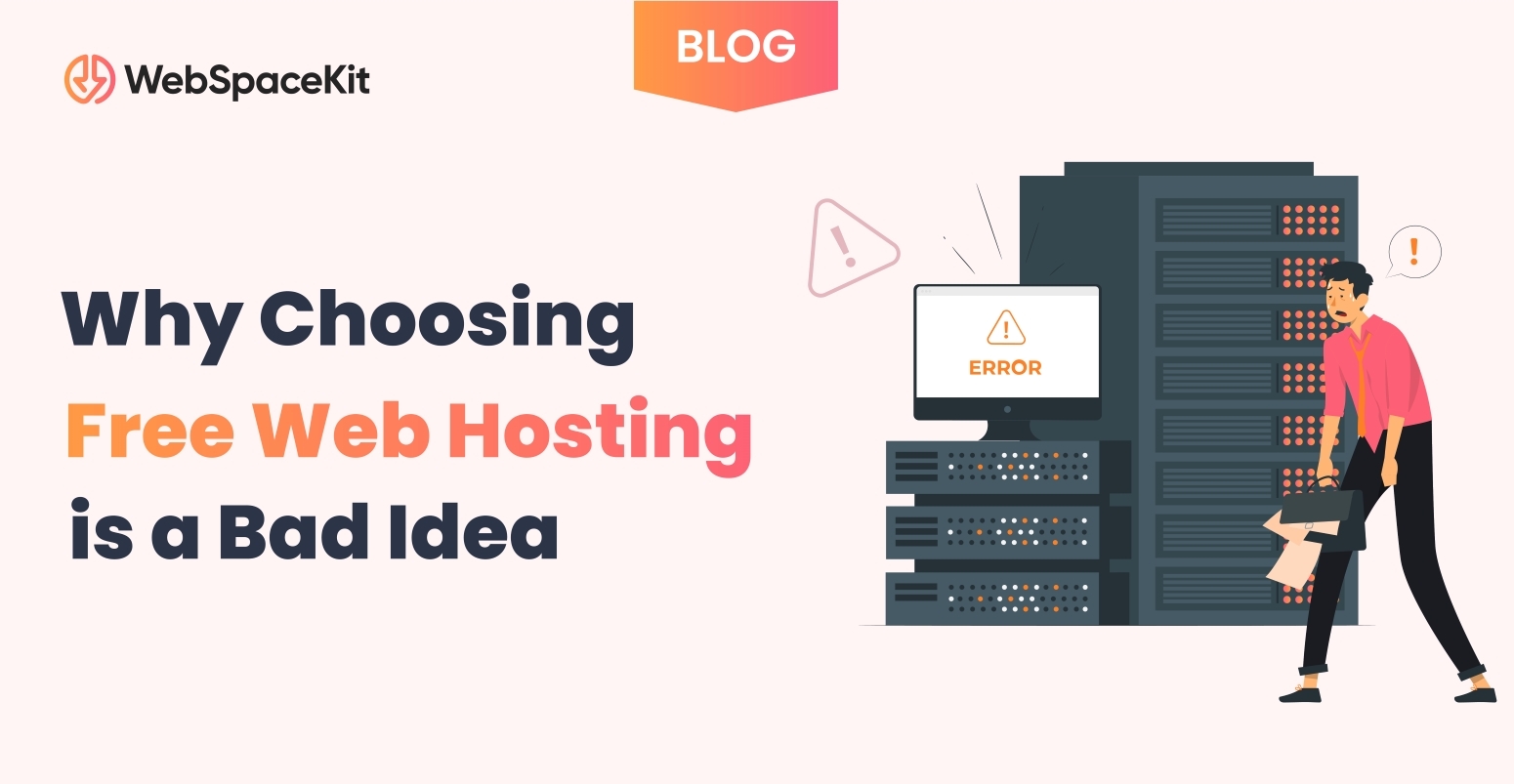 Why Choosing Free Web Hosting is a Bad Idea?
With everything becoming digitised, and websites are essential to establish your digital presence. A well-planned website can help your business establish as a strong brand. Every website needs hosting, and when you do a Google search for a 'website hosting,' you get a ton of options, both free and paid, offering a quick and easy solution for building your website. Now you might think, 
I am getting a free website without spending much and free hosting, so why should I pay for one?
Well, free website hosting can be tempting and sounds good, especially when you are a newbie and just starting, but in reality, it comes with many downsides, especially if you are building a website for your business.
Many people may begin with free website hosting thinking that they can upgrade to paid hosting once their business takes off, but they are likely doing their business a grave disservice by doing so. There is also a misconception that free hosting helps save money, and companies need not spend on hosting. Eventually, it will prove difficult because of their limitations and hidden costs, which is quite the opposite of "FREE."
"But I only need one page for my website? Why shouldn't I host my site for free?"
In more than 95% of the cases, free hosting is not "really free," and you end up paying a huge amount later on, and it will probably come with many disadvantages, too, like low bandwidth, limited disk space, no upgrades, etc.
Unfortunately, many have fallen prey to the lure of free websites over the years and lived to regret their decisions. Remember that you become the product if you are not paying for something. In addition, these companies use other ways to make money out of you by selling your personal information.
In this blog, we will explain Why choosing free web hosting is a bad idea and how you can go for paid hosting at a reasonable cost. But before that, let's first understand what "free website hosting" is.
What is free web hosting?
Having a web presence is essential for most businesses. Now when you want to establish a web presence, you will need a website, and for it to stay online, you need a web hosting service. Free Web hosting services provide free web hosting and sometimes a free domain name. Hosting is the server where your website's files get stored, and the domain name is the address of your website, that your visitors give in the browser.
Free hosting comes with many limitations as it allows you to host a limited number of websites and comes with limited disk space, lower site speed, no uptime guarantee, negligible backup provisions, and a limited bandwidth cap. Also, free web hosting companies sell you expensive web hosting, which you may need later on, and you do not have any guarantee that the web hosting company will be there for an extended period.
How do free hosting services convert you to a deal?
Free hosting companies may offer free things at the beginning but may not hold on to the promises in the long term. Initially, to attract you, they may offer unlimited features such as bandwidth, disk space, etc., but in time may fail to keep up due to inefficiencies. It is good to not fall for such traps because your site can get stuck with a particular host, and it may be challenging to move to another host in case of need.
You may have to spend extra money and effort to come out of the deal or, worse, end up paying a considerable amount to keep continuing with them. You will end up risking your business for the sake of saving money. It's far wiser to choose an affordable hosting provider like WebSpaceKit and protect yourself from plenty of headaches in the long run.
We will now see why choosing free web hosting is a bad idea and something you should AVOID at all costs.
Ten reasons Why Choosing Free Web Hosting is a Bad Idea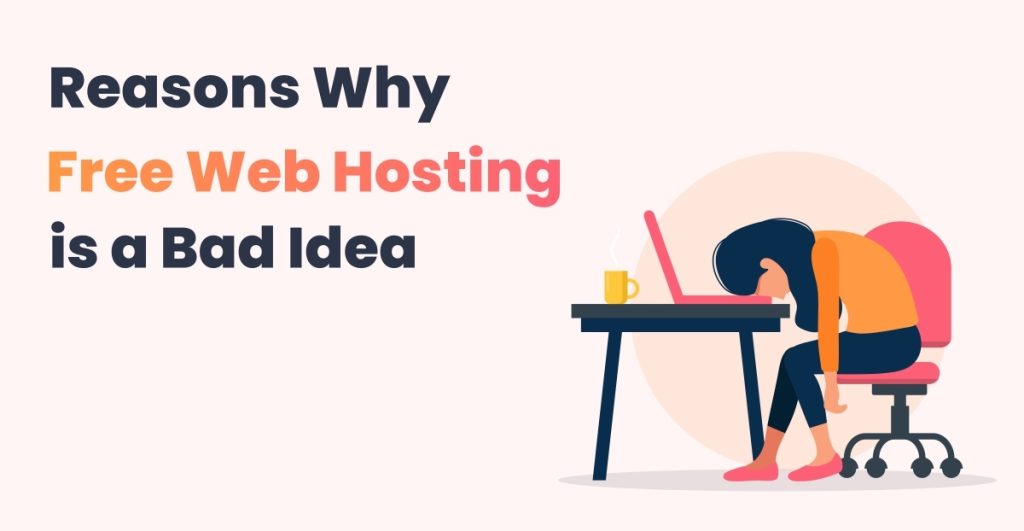 Here are ten reasons why choosing free web hosting is a bad idea:
1. Extremely slow loading
Since your free provider hosts many websites on the same server, the systems do not have the resources to keep up, thus causing your website to load very slowly. Also, more visitors, slower can be your website. This can harm user experience, and people may leave your website even before it loads completely, which can be bad for your business.
Statistics have shown that 1 in 4 visitors abandon a site that takes more than 4 seconds to load. Even a 1-second delay can reduce customer satisfaction by 16%
2. Poor Performance and Scalability
Free hosting services cannot handle a lot of traffic. Once your business takes off, managing traffic can become complicated, thus resulting in slow website speeds. Your website is most likely not scalable, and if your company expands, your website will not be able to keep up with free hosting. Thus, free web hosts fail to provide performance and scalability. Opting for paid hosting can help in this case, and it is not as expensive as you think. You can check out our blog on choosing a good website hosting provider.
3. Risk of Data Security
Having free website hosting services makes your website more vulnerable to hacking attempts with minimal protection. The provider has less obligation, which means you have lesser rights over your website, and they come with security flaws that hackers can use to access your website. When you opt for paid hosting, the service provider provides you with safe and secure hosting options with good security features at an affordable price. 
4. Limited or No Support
Support is not sufficient when you use free website services. You may have to set up your site on your own, and in case of any emergencies or bugs, you will need to figure out the problem yourself or hire a web developer to help fix the issue. Though the free services offered may be tempting, you need to clarify things beforehand. If you have a long-term vision for the services and your brand, a free website can be pretty risky, and a lack of guarantee can harm it in the long run.
5. Unprofessional website URL
Having a website address like this, "www.yourbusiness.freewebsite.com," does not look professional as visitors and potential customers visit it. It will be difficult for them to take your business seriously if you do not have a proper name for your website. If your service provider decides to close the service or shut down your website, you will lose your web address which is the sub-domain associated with the provider and data. You cannot replicate your free website to your new website.
6. Difficulty in data migration/website transfer
Due to free hosting, you do not get all controls and configurations needed to set up and manage your website. For example, you may not connect your custom domain or control the hosting and domain. As a result, you may have to keep using your subdomain provided by the hosting provider. In addition, there may not be a provision to transfer or migrate your website too in case of need. 
7. Unwanted ads and no monetisation opportunities
It is common for free website providers to put ads on your free website. Users may get distracted by them and move out from your site as it can be distracting for some. Also, these providers may prevent you from running your ads and have restrictions regarding the ability to monetise your site. You cannot add affiliate links or Adsense and google analytics tracking code to see how your website performs. If your goal is to begin a website to make money, steer clear of free hosting and opt for a paid one.
8. Limited or no control over your own content
You know the limitations of signing up for free website services; apart from site performance and hidden costs, you are not the one in control of your own content and code on your website. Your website's data is also not fully protected, which means you can lose your site and all data anytime without receiving any notification.
9. SEO ranking will suffer
Google has set high standards for websites to rank on the top. The negative effects listed above make it difficult for your website to rank due to low quality as per Google's standards. Also, establishing a solid online presence takes time, and if you lose your website due to any reason, you will lose not only everything you've worked for but also your ranking in Google.
If your ranking suffers, your customers will go elsewhere and lose business. When you choose a reputable web hosting company, you build your brand, and you have a better chance of success as you reach your full potential through a professional online presence, support and services. 
10. Limited Design choices
Last but not least, with the lack of customisation options, restrictions on the themes and plugins, limited e-commerce functionally, site-building tools, you have minimal design options, which can be a huge minus.
Differences between free and paid hosting
The following are some differences between paid and free hosting. Have a look at the points to consider before committing to a hosting plan.
| | |
| --- | --- |
| FREE HOSTING | PAID HOSTING |
| No backup of data | Daily or Weekly Backup |
| Ads for revenue | No Ads |
| Average speed & less bandwidth | Good speed and best bandwidth |
| Negligible customer support | On-demand customer support |
| Restrictive domain name options due to subdomain | Your domain name is your own |
| Hidden fees, high renewal prices | No hidden fees, manageable renewals |
| Vulnerable Website | Secured website with SSL authentication |
| Limited disk space | More disk space |
| Free Hosting | Not as expensive as you think |
Conclusion
Free might sound good but is it good in the long term? Think about it! Your website is your hard work and ideas put in action, so going for a reputed web host is all it takes. You might think that you are saving a lot of money by initially opting for free web hosting. Still, as time goes by, the minor issues with your website might also get bigger, and you will find it challenging to handle it all by yourself rather than focusing on your business.
First, it is not about saving money or time. It's essential to think about your long-term goals for your website before choosing a web hosting company. Opt for a reliable paid web hosting service if you want your website to be in good hands with dedicated support, good performance and downtime, professional email etc. 
Now, what are you waiting for? It's time to go ahead and build your online presence! If you plan to develop a website and do not know which hosting to choose, you can go for WebSpaceKit, which offers the fastest website loading time compared to all WordPress hosting providers in India.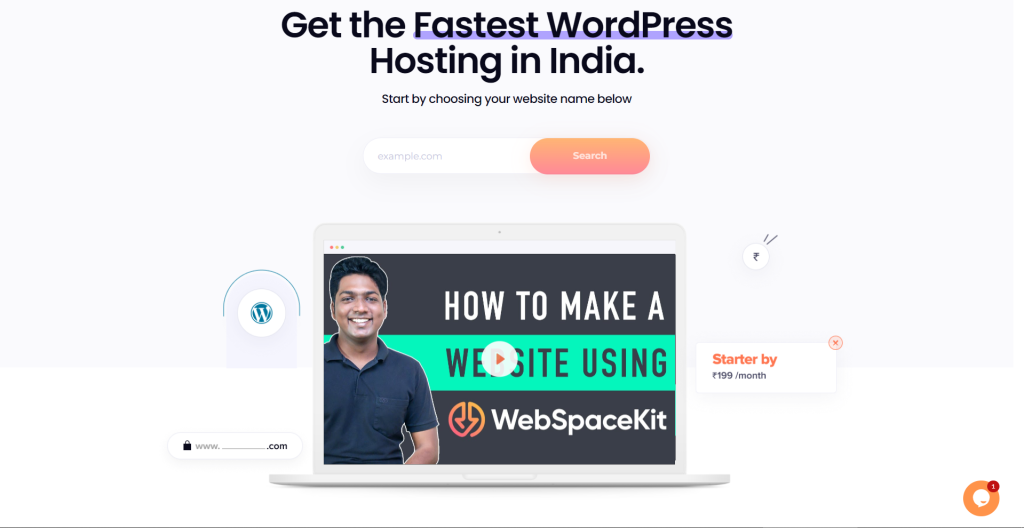 WebSpaceKit, with its affordable hosting plans and beginner-friendly setup, can be suitable for people beginning their website journey. Also, for website owners who want to migrate to a better-performing and faster hosting provider, traffic from India can benefit from WebSpaceKit's powerful servers located in India and Singapore. Check out their plans below!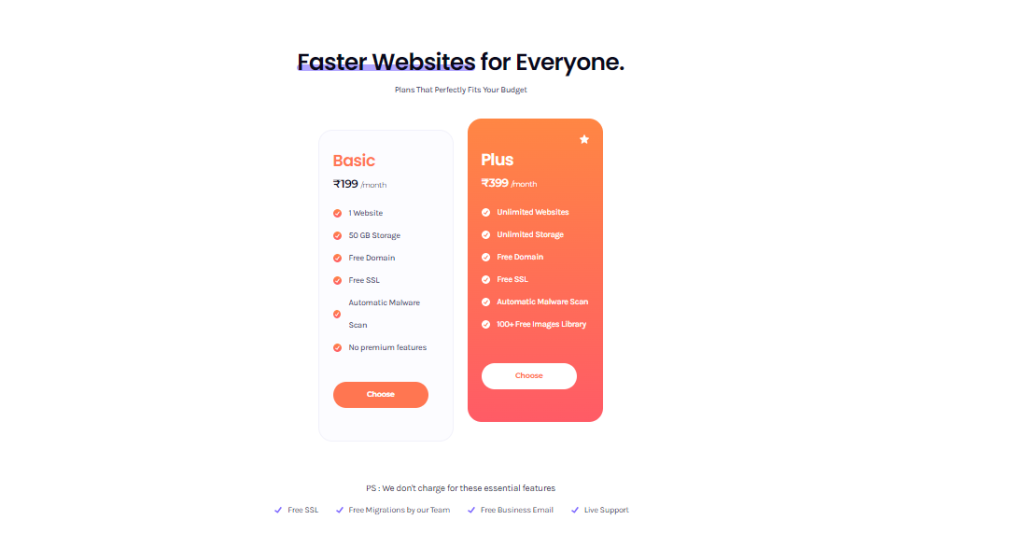 If you are looking to just focus on building your business and not worry about your website, you can hire Website Learners to develop your website. Get in touch with us today! 
Have you ever had problems with free hosting providers? And if you have paid for hosting, which provider do you recommend? Then, do let us know in the comments section below.