Cloud Hosting Vs Shared Hosting – Everything You Need to Know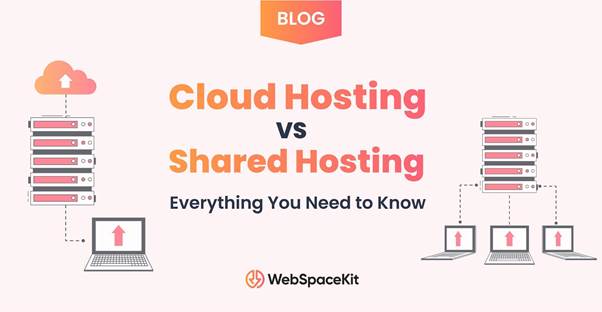 Cloud Hosting Vs Shared Hosting:
Your website is everything in the online world. Every company needs a good server to host their website on, and with so many options available, choosing the perfect one for your business can be challenging. Web hosting is a service that makes your website accessible to all on the internet, and it's one of the essential elements to consider when building a website.
In this day and age, you can't skip out on good website hosting services as it is crucial, and if your website is down or servers are slower, both your brand and rankings can get affected, and not in a good way!. For example, Google has updated its algorithm to include page speed as a ranking factor, and the load time of your website can affect rankings on Google.
Also, whether you're a small business or a booming enterprise, one question remains: which hosting to choose? Which is best, and what is the difference between Cloud Hosting Vs Shared Hosting:? Understanding each of these services will help you in your quest to get the best option. But, remember, there's no one hosting that serves all; and the proper type depends solely on the requirements of your website.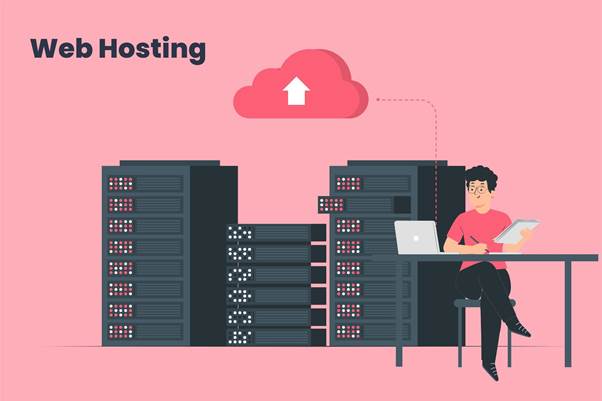 There are several types of web hosting such as dedicated web hosting, Shared Web Hosting, VPS Web Hosting, Cloud Web Hosting and Managed WordPress Hosting. For shared WordPress hosting, you can choose WebspaceKit, which offers the fastest website loading time compared to all WordPress hosting providers in India.
WebSpaceKit, with its affordable hosting plans and beginner-friendly setup, can be suitable for people beginning their website journey. Also, for website owners who want to migrate to a better-performing and faster hosting provider, traffic from India can benefit from WebSpaceKit's powerful Apache Web Server located in India and Singapore.
This blog offers you an insight into shared vs cloud hosting, its benefits, limitations, costs, and more, so you'll have a clear-headed idea of which hosting is right for you. So, let's dive right in.
What is Cloud Hosting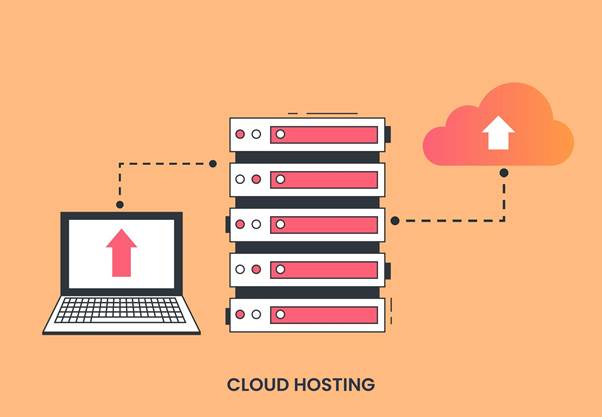 Cloud hosting is a robust and cost-efficient hosting type that enables you to handle your website's growing needs easily. As the name suggests, Cloud Hosting hosts your website across several interconnected servers operating in a cloud environment. Thus, cloud servers are exceptional in being resilient and can become a solution to massive data storage and hosting.
What are the advantages of Cloud Hosting
As said earlier, Cloud hosting can be best for handling large amounts of traffic and data. So, let us see the advantages that cloud hosting offers.
1. Security
It would be best to worry less about security when you have Cloud Hosting. It has all the infrastructure needed to secure your data at various levels by providing advanced multi-level security and scale resources as per need. In addition, the providers ensure data is safe throughout. If security is a primary concern for your organization, cloud hosting is a more secure option.
2. Performance
Cloud hosting can handle a high volume of traffic, and your website can load faster. In addition, if your Site needs resizing, more resources can be allocated, thus making your Site less likely to go down.
3. Resources
Since you do not share resources with others, your website runs smoothly. Even in the case of any issue, one need not wait and can easily switch over to another server where they are needed the most, thus ensuring peak performance at all times for your Site.
4. Scalability and Flexibility
Cloud servers can be designed to meet specific needs and scaled to meet your changing priorities and ongoing growth. Cloud services are dedicated to supporting multiple functions and meeting evolving needs with various options. Since plans can be upgraded or downgraded as per the user's need, they need to only pay for the services they need at a particular time.
What to look out for before cloud hosting is deployed?
Your monthly budget plays a crucial factor in choosing the hosting plan you do. Check out various Cloud hosting plans if you are on a tight budget and see if it is coming under your budget. Then, depending on the traffic, check out the cost and features you are getting with cloud hosting and whether there are upgrade options.
For instance, check their technical support and cost impact before you make a final decision. Some hosting providers provide free technical support with their plans and on the other hand, some may require you to pay a small sum for certain services.
Also, check how much bandwidth, database, space, security, etc., you are getting with the plans. Then, depending on the data, you need to upload on your website, check if the hosting plan meets your requirements, performance, and reliability with the plans.
Keeping your website safe from hackers is very important, and once you make a list of all the things you need, it can be easy to choose the perfect cloud hosting plan and service provider.
What are the shortcomings of cloud hosting?
Though the advantages of operating in the cloud servers are many, there are a few disadvantages that you must know before you transition to the Cloud.
Downtime
The Cloud depends entirely on a network of servers hosted on the internet. When the cloud provider faces any technical outage for any reason, the data center may go out of service for maintenance, leading to temporary downtime in the cloud service. The users may not access the data or applications during that period.
2. Vendor Lock-ins
Migrating your hosting from one provider to another can be a challenge as the differences between the cloud environments can cause compatibility or integration issues. In addition, if the transition is not handled correctly, it can expose your organization's data to vulnerabilities.
3. Limited control
The Cloud is wholly owned and managed by your cloud hosting vendor, and you have limited control over data, services, and applications. You must have a valid end-user license agreement to understand the dos and don'ts.
4. Data Theft or loss
Storing your crucial data in virtual data centers can lead to data loss such as security breaches, information theft, stolen credentials, etc. Some providers follow a shared responsibility where the vendor takes responsibility for application availability, administration, and user management.
Now that we have seen Cloud Hosting in detail let's move on to Shared Hosting.
What is Shared Hosting?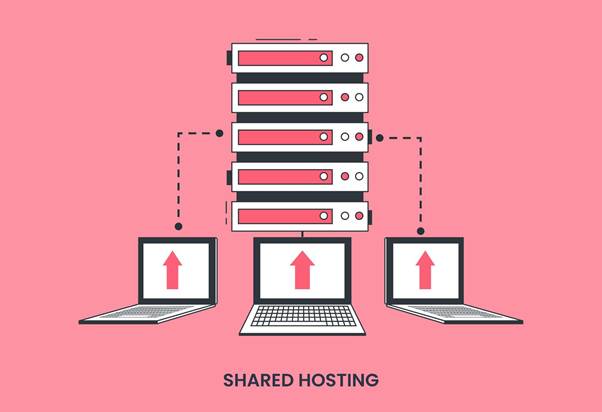 As the name suggests, shared hosting hosts multiple websites on the same server. Owners share disk space, database, CPU, RAM, etc. A shared hosting plan provides all the necessary tools to build, manage and grow your website. For example, shared hosting can be a computer with multiple users' sites stored on the same hard disk partition.
The hosting provider is responsible for maintaining the server and accessing any data on your website. A good Shared hosting provider ensures that your website is intact by blocking access to any dangerous files, preventing malicious attacks, software that is up to date and giving you enough resources to run the website.
Shared plans, however, vary from company to company in both features and pricing. Shared hosting is the most popular choice for those just starting out owing to low-cost solutions and can work well if one chooses the right host. Therefore, it is the ideal choice for beginners.
What are the advantages of shared hosting?
Let's see some advantages of shared hosting and why it is popular among beginners.
1. Pricing
You can easily get shared hosting at low prices, and anyone can easily buy and afford shared hosting. Moreover, as resources are shared with multiple users, costs are equally divided. Therefore, it can be best for low-traffic businesses, blog websites, and review websites. They do not need much space, and you can upgrade the plan as your website grows.
2. Software resources
Shared hosting comes with software resources that are easy to use and help you manage your website. If you are not technical enough and do not have a specialized team, you can opt for this.
3. Simple User Interface
One of the significant advantages of shared hosting is having a simple user interface. When you purchase the service, you are provided with a web interface to make changes, upload, create a site, add more domains, etc. Due to the simple user interface, you need not have a thorough knowledge of running the server and using the service easily.
When can shared hosting be deployed?
If you are just starting out, Shared Hosting is the best hosting. All advanced configurations etc., are taken care of by the provider. You can also choose a shared plan with precisely the resources you need. That way, you only pay for what you use, and you can easily experiment with different sites, too, without affecting your primary business.
Shared Hosting is most preferred for simple websites with not much traffic. Websites such as blogs, one-pagers, review sites, and a small assortment of products or services can do great with Shared Hosting. However, things can get a little problematic when your website hits the limit. Nevertheless, shared hosting delivers excellently, as long as you don't exceed your bandwidth.
What are the shortcomings of shared hosting?
1. Speed
The speed of your website depends on the activity of other websites hosted on the same server infrastructure and plan. So, if any website gets heavy traffic, all the websites on the server can be affected, causing low speeds and slow loading time.
2. Security Attacks
Since multiple users use the same resources such as database, software, disk, etc., on the shared hosting, your website is more vulnerable to hackers. This is because it has access to other services on the same server. Once your website gets hacked, hackers can leave a door to make a re-entry later on.
3. Resources and Performance
Resources are shared among users, and if another user requests for the same, they may have to wait until it is free to use. So, if a website has a sudden increase in traffic, it will impact the rest of the websites on the server and slow down their loading times. When your page takes a lot of time to load, it can get frustrating for your visitors, leading you to lose traffic as visitors decide to seek the info they need elsewhere.
Differences: Cloud Hosting Vs Shared Hosting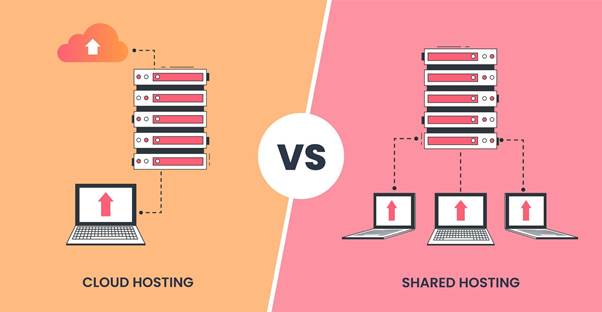 Cloud and Shared hosting have different purposes, and we have discussed all of them above. For example, shared hosting can be deployed if you want a cheaper service to go online quickly. On the other hand, Cloud hosting is more about configuring the right resources from deploying the right servers with proper disk space. So keep in mind the purpose they serve, and here are some differences based on cost, traffic, security, etc.
| | | |
| --- | --- | --- |
| Parameter | Shared Hosting | Cloud Hosting |
| Server sharing model | Single shared server hosting on a number of websites | Many dedicated cloud servers to host a number of websites |
| Scalability | Limited since resources are limited | Large scope to scale |
| Pricing | Cheaper when compared to the cloud | A bit expensive when compared to shared |
| Processing power | Requires lower processing power and less storage capacity | Requires high processing power and more storage capacity |
| Security | Can be secured depending on the hosting provider | Offers multiple layers of securing and recovery options |
| Performance | Depends on the vendor you choose. | Owing to multiple servers, performance is faster |
| Multiple Data Centers | Lesser when compared to cloud | Multiple servers across the globe |
Conclusion
We hope you have understood the difference between shared and cloud hosting. First, you must consider the needs and services you require for your website, and only then can you decide which hosting plan is best for you. If you have a website with low or medium-level traffic, you can go for shared hosting.
If you have higher traffic and need dedicated resources, go with the Cloud. Everything depends on your requirement and budget. Shared hosting is best for small businesses with a limited budget as they get all access to basic features. On the other hand, Cloud is best for business websites that are huge and receive a large amount of traffic, can scale up quickly, and is reliable, giving you a lot of flexibility.
If you are looking for shared hosting, you can choose WebSpaceKit, a popular hosting provider that is built specifically to host WordPress websites. Though comparatively new, it has become hugely popular due to its fast website loading time of under 2 seconds. With super-fast website loading time, 24*7 free migration support, and affordable hosting plans, we believe that WebSpaceKit is all set to become the best hosting provider in India.
Also, for website owners who want to migrate to a better-performing and faster hosting provider, traffic from India can benefit from WebSpaceKit's powerful servers located in India and Singapore. If you already have a website, check our video tutorial on how you can migrate your website to WebSpaceKit.
Have you switched over from one type of hosting to another? Did you see any improvement in site performance? If yes, do let us know in the comments below!
FAQs on Cloud Hosting Vs Shared Hosting
1) What are the different types of hosting?
There are five main types of web hosting that are commonly used now in the hosting space,
Dedicated Web Hosting
Shared Web Hosting
VPS Web Hosting
Cloud Web Hosting
Managed WordPress Hosting
2) Which type of hosting service should I choose?
That totally depends on the needs of the website. Say, you are developing a static website that isn't resource-intensive, then Shared web hosting will do. But in the case of websites with huge traffic, cloud hosting or Dedicated/ VPS hosting is recommended.
However, if you are creating a WordPress website for the long run, then Managed WordPress hosting is the right solution.
3) Which type of hosting is best for an individual site?
Shared web hosting will be the ideal solution for an individual site considering it won't utilize much of the shared resources. A shared web hosting will be affordable and a bit easy on the pockets compared to resource-intensive types like cloud, Dedicated or VPS hosting.
4) Can I host my eCommerce website on a shared server?
While you can host your eCommerce website on a shared server, it is not quite recommended! A shared server means that you need to share the website resources with other websites on the server. While this may not be an issue with usual websites, eCommerce websites are resource-intensive, and thus require a separate server for themselves.
5) Which is the best hosting site for starting a new blog?
WebSpaceKit. Because they have the right set of hosting plans for beginner bloggers starting on a budget. Also, be it speed or security, WebSpaceKit has got it all to be the right fit for blogging.
Apart from that, the Web Space kit has amazing SEO features that will make it easy for your blog to rank higher in the search results.